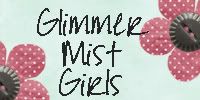 So many of you have more than shocked me and joined the Glimmer Mist Gals Club! I want to personally thank you all!
We are up to 50 members now and that is just amazing! I am working with Tattered Angels to be able to offer you more of the new and upcoming things as soon as they come out! Right now Glimmer Glam, Glimmer Glaze and Chalkboard Collection are due to come out in Mid-March. The X-Large Misting Mats are due to be back in March 5th. Summer 2010 Limited Edition Colors are also showing as available. I will be doing an order for that here soon so keep a look out.
Some of you have experience shipping issues with this first round of Glimmer Mists. I can't apologize enough for this. I did not see this as an issue after talking with the post office about what type of packaging to use. They informed me to go ahead with the bubble envelopes as they would actually provide protection to the bottles. I am sorry for the inconvenience and Michael and I are replacing each and every missing item. The replacements have been ordered and are expected to be here this week and shipped out STAT!
I know that we are trying to provide all Live.Teach.Create customers with the utmost in customer service. Michael has over 20 years in Customer Service and I about 5 total. We are working with FedEx and UPS to get rates that are just as good as USPS and will include insurance up to $100 and tracking on a package! This will make things SO much nicer. Emails will be sent to you as soon as a label is printed and you can track it all the way to your door step!
Glimmer Mist Girls Club will still be sent using USPS Priority for US and USPS First Class Parcel for International. We will be doing our best to keep the costs down and provide you with the highest service that we can. We ENCOURAGE you to combine your GMG order with another order!